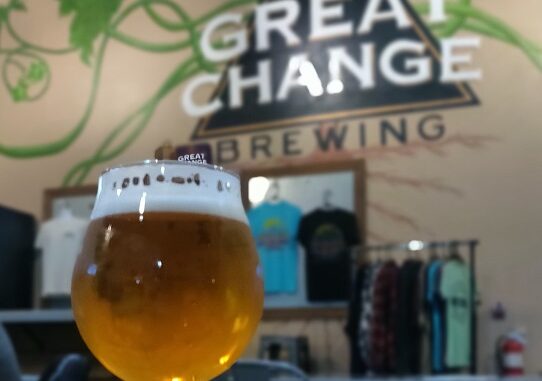 When it comes to creativity and innovation, the world of beer is definitely at the forefront. While there are plenty of major metropolitan cities that are overflowing with great beer, the Bakersfield Kern County Brewery Trail not only continues to grow in size but also in unique beer that can pour itself proudly against any other city in the United States.
The brewery list is so good, you are going to have to make a few visits to this trail to take it all in, but the unique twist to the updated brewery trail is the addition to Off the Rails. Off the Rails owner, Rebecca Esparza decided to bring her love of beer to Bakersfield with a concept that is going to give you a completely different experience than a brewery. The beautiful setting of Off the Rails lends itself to coming and trying out some unique beers, but then also lends itself to a more upscale lounge setting and also has a great stage that offers up a variety of live music. Rebecca certainly brought the best of a lot of different worlds and did it successfully, but still kept her main focus on the beer.
Rebecca definitely keeps Bakersfield front and center, whether it is on her tap list, partnering with local breweries as 2nd Phase or just putting on great events to help put beer front and center in Bakersfield. What really sets Off the Rails apart is how Rebecca goes far beyond Bakersfield and scours the entire United States for the the most unique and flavorful beers to fill her cooler. You are likely going to be surprised to find Blue Raspberry Cotton Candy Sour from Spanish Marie Brewery out of Miami in the cooler at Off the Rails. You are never going to know what you will find at Off the Rails as the canned and tap selection is always rotating, so make sure to enjoy your favorite beer while you can before it disappears. To find the current beer list at Off the Rails, visit: Untappd.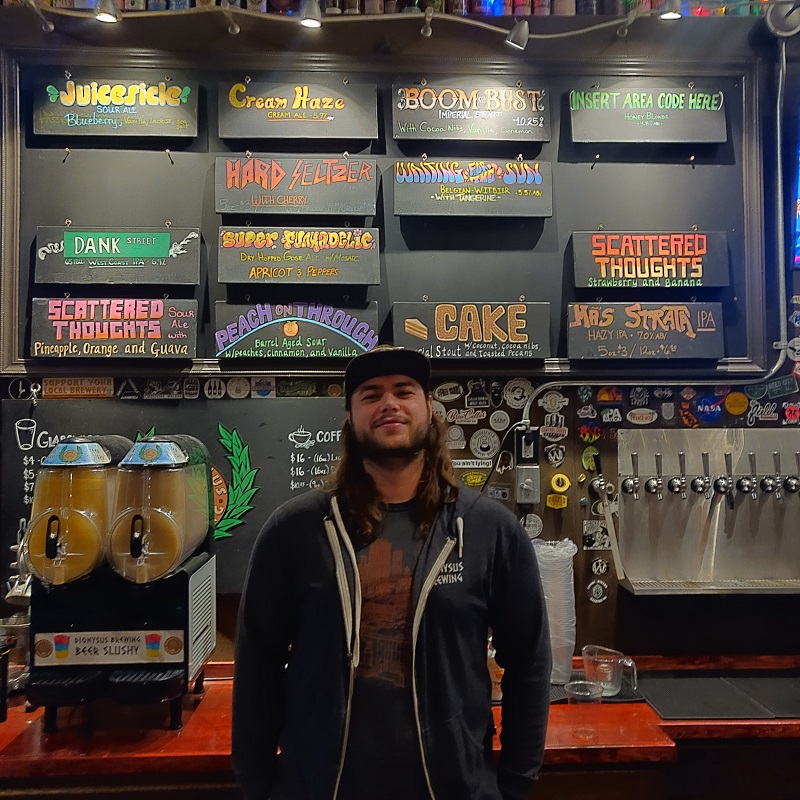 If you are looking to prototypical microbrewery Dionysus Brewing Company is just that. Once you walk through the doors, you not only see the creation of beer completely surrounding you, but the setting itself is inviting and the staff makes you feel at home as soon as you grab a barstool. Dionysus is still in their infancy, having just celebrated their seventh anniversary, but in a short time they have put out some memorable beers and created a must visit location on the brewery trail. Stout beers have become the blank canvas of breweries in recent years with just over-the-top flavors being created in this style and Dionysus has an epic version with their CAKE Imperial Stout. Dionysus really took the flavor profile to a level matching of the name by combining toasted pecans, toasted coconuts, and cocoa nibs, coming in at a whopping 10% ABV and the great part of this beer is that they also have it in a can version so you can take a four-pack home with you. Dionysus has a great selection on tap and you are not going to be disappointed in anything they pour your way. If you are looking to wake up the next morning to the same great quality as their beer, Dionysus also roasts their own beans in-house so you can take that coffee home with you and brew your own cup of Dionysus.
If you are looking for a bigger brewery location to bring a group, friends, family, and even the kids and your dog, Great Change Brewing is a very fun spot that has a beer lineup that might just keep you there all day. This is another great Bakersfield Brewery that amazingly has a great beer list from top-to-bottom. 'I'm A Little Hazy IPA' will make anyone happy who enjoys a slight hoppiness that will hit you on the back end of the beer with floral notes of citrus, just a very smooth and easy-to-drink beer. For those of you who are looking for something to break you into the microbrewery world, 'Game of Wits' will do just that. A very flavorful Belgian wit beer that is centered around mango is a beer that any beer drinker will enjoy and those friends of yours who think they don't like beer, sneak this one into their day and it might just change their mind. If you are a stout drinker, Great Change also has some barrel-aged stouts that are close to being ready and they are sure to be worth the wait.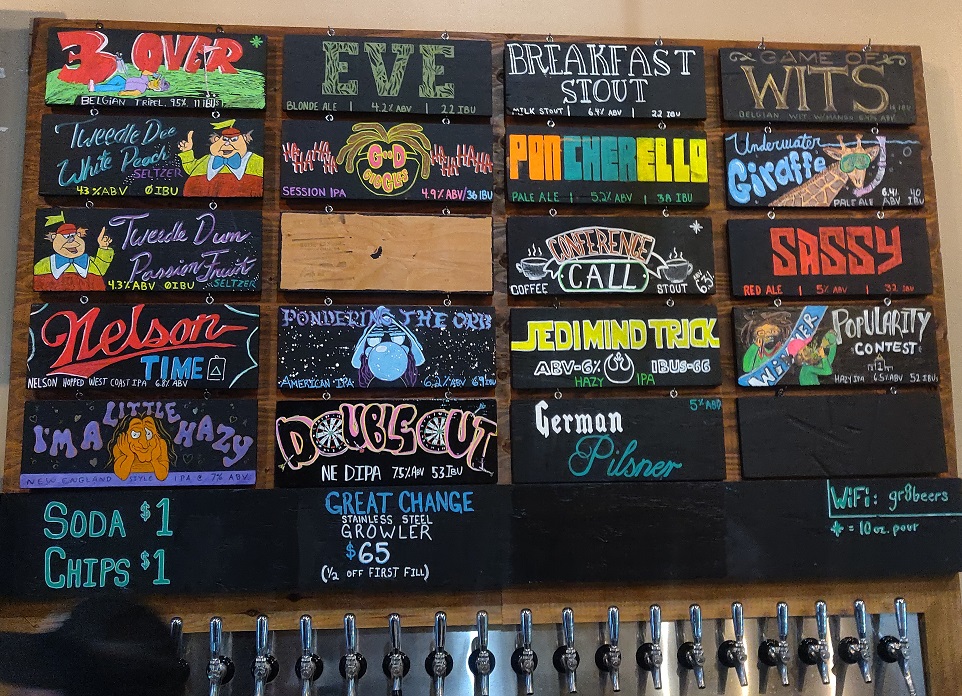 If you love the intricacy and the detail that goes into creating each beer, Crusader Brewing is a must-stop. They take all the classic beer styles and brewing techniques and elevate them with the most modern techniques in terms of ingredients, brewing style, and everything else right down to the water to ensure each beer is as perfect as possible. If you are looking for a great beer and a place that always seems to have something going on to keep you entertained beyond beer, Crusader Brewing has a well-earned spot on the Brewery Trail. To show off their creativity, Crusader Brewing created beers to pair with Girl Scout cookies and they do not disappoint. The "Battle Maiden" is a great Coconut Imperial Stout all by itself, but pairing it with the Carmel deLites and you have a little bit of boozy dessert heaven to enjoy.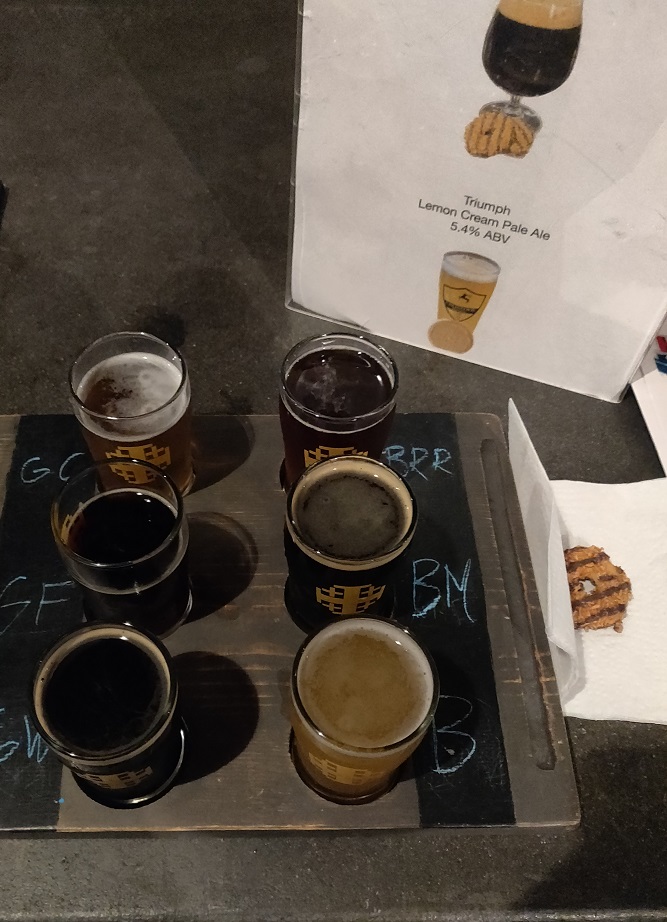 Just like Bakersfield itself, the Bakersfield Kern County Brewery Trail continues to grow. As summer approaches and you are looking for a little road trip and you are looking for a new brewery or twelve to visit, Bakersfield should find a place on your itinerary. Bakersfield might be in the infancy when it comes to the landscape of breweries, while it might be lacking in age, it puts out so many great beers that it puts in perspective what great things the future has in store for the beer drinkers of this quaint and inviting city.
For more information, visit: Bakersfield Kern County Brewery Trail You will find a complete list of breweries and if you check in at each brewery and reach 800 points, you can win a custom t-shirt or one-of-a-kind brewery trail pint glass.