It's the story that changed a generation and live theatre forever. A musical filled with popular hits from the 60s and 70s. A story that seems just as relevant now as it did back then.

Skokie Theatre brings it all back with a fabulous interpretation of the rock musical, HAIR and its tribe, produced by Wendy Kaplan and Wayne Mell for Madkap Productions.

Making its debut in 1967, this revolutionary show shocked the world with its nudity, racism, language, and liberal ideas.

With book and lyrics by Gerome Ragni and James Rado, and music by Gail MacDermot, HAIR features a soundtrack of "Aquarius," "Good Morning, Starshine," "Hair," and "Let The Sunshine In." Exploring ideas of identity, community, global responsibility and peace, HAIR examines what it means to be a young person in a changing world.

This major difference is the background of the play – protesting the Viet Nam War, which is no longer an issue today.

The music starts even before the play begins with the barefoot, long-haired, bell-bottomed, beaded cast engaged in singing and dancing. But it's all in the name of fun and sets the mood for what's to come.

The high-energy cast includes: Joey Chelius, Jack Chylinski, Jonah Cochin, Niki-Charisse Franco. Sam Hook, Ben Isabel, Justice Largin, Bridgett Martinez, Christian Moreno, Alexandria Neyhart, Julie Peterson, Chevy Dixon Saul, Hannah Silverman and Shraga D. Wasserman.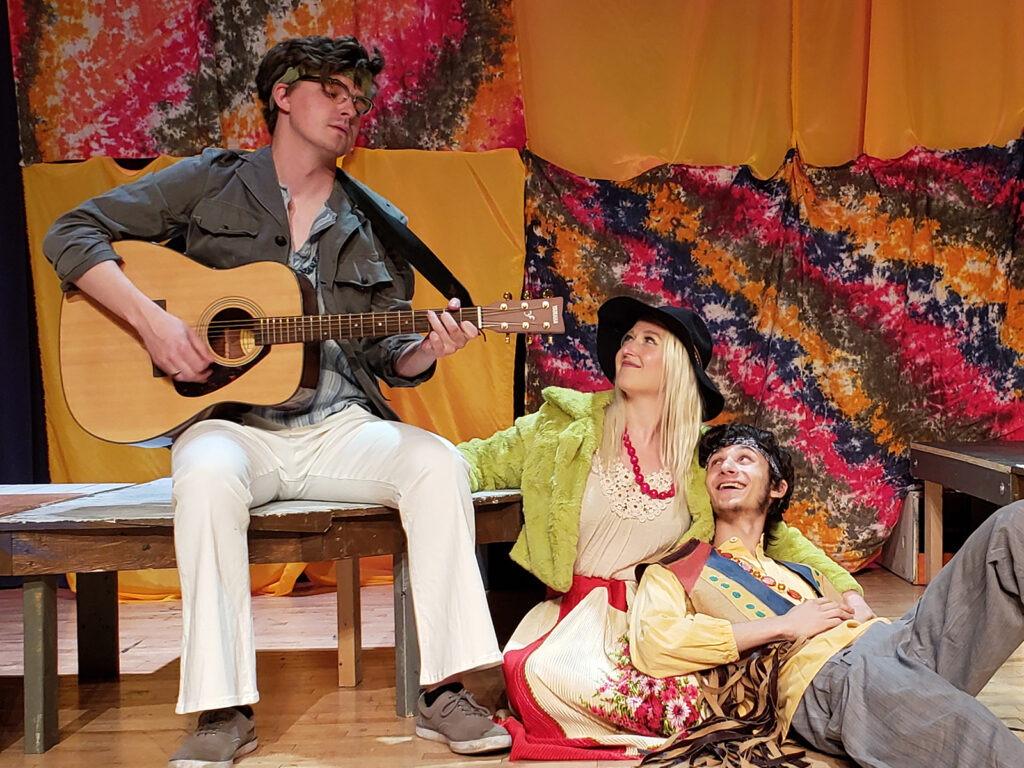 Joey Chelius and members of the tribe

The show is directed by recent Joseph Jefferson award-winner Derek Van Barham (Sweeny Todd: The Demon Barber of Fleet Street at Kokandy Productions) with Musical Direction by multiple Jeff award-winner Jeremy Ramey, Choreography by Brennan Urbi, and Intimacy Direction by Christa Retka.

Kudos to Jeff award-winner Beth Laske-Miller costume designer for her colorful, original hippie costumes and over-the-top make-up.

Shraga D. Wasserman as lead, Berger is outstanding. His lithe figure, comedic actions, and eye-movements steal the show as the anti-everything protestor.

Joey Chelius delivers an amazing performance as the confused Claude.

Julie Peterson as the pregnant Jeanie has tons of energy as she romps across the stage.

But the voices! Niki-Charisse Franco belts it out with passion and power, leading the entire cast in a joyful celebration of peace and hope. She is spectacular.
Let HAIR take you back to a gentler time and a time of innocence. See it now "when the Moon is in the is in the seventh house and Jupiter aligns with mars."

HAIR is the inaugural show of its 23-24 season and plays through July 30. Next up is A CHORUS LINE (music by Marvin Hamlisch, lyrics by Edward Kleban), THE SISTERS ROSENSWEIG by Wendy Wasserstein, ON GOLDEN POND by Ernest Thompson, and THE CURIOUS INCIDENT OF THE DOG IN THE NIGHT-TIME by Simon Stephens, based on the novel by Mark Haddon.

Subscription packages and individual tickets are available at SkokieTheatre.org or by phone at 847-677-7761.

Running time: 2 hours and 15 minutes. Parental guidance suggested due to nudity, language, and drug use.

All photos courtesy of Mapkap Productions.