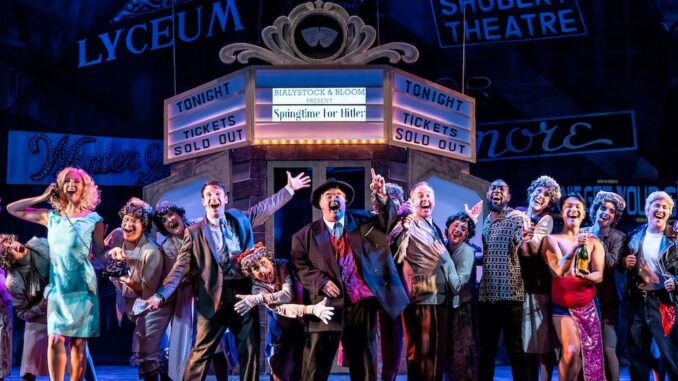 Once again, the North Shore Center for the Performing Arts is filled with side-splitting laughs in Music TheaterWorks' 150TH production of this classic Mel Brooks musical, now through August 20. This is a Broadway-quality production from the cast to the costumes to the choreography. You become mesmerized as soon as the curtain rises, and two beautifully costumed showgirls welcome you in.

When it made its debut on Broadway in 2001, The Producers won 12 Tony Awards, including best musical.

The tale of Max Bialystock and Leo Bloom was written by Mel Brooks and Thomas Meehan, with music and lyrics by Mel Brooks. Accountant Leo Bloom finds a loophole that can guarantee a windfall if Max produces a flop. So what if it's illegal?

And what could guarantee a flop more than a Broadway show entitled, "Springtime for Hitler?" Yes, there is something to offend everyone in this show.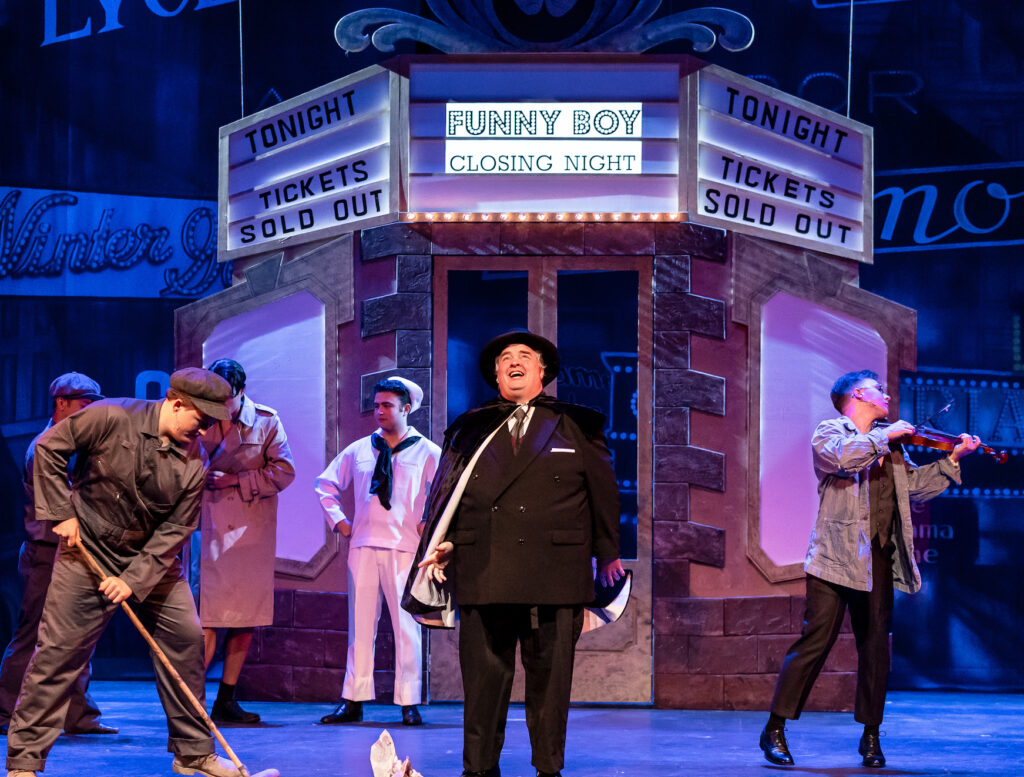 Of course, the show is a hit and that's when the trouble begins for the two friends.

The musical production is based on the movie — a big, bawdy and brilliant Broadway show based on Mel Brooks' classic film, THE PRODUCERS. It sets the standard for giant production numbers and modern, outrageous, in-your-face humor.

The show is directed by L. Walter Stearns, choreographed by Darryl K. Clark, assistant choreographed by Nick Johnson with music directed by Eugene Dizon.

Thomas M. Shea as Max Bialystock is hysterical and the ideal choice for this role, channeling both Zero Mostel and Nathan Lane. He is complimented by the nerdy, unassuming David Geinosky as Leo Bloom. Kudos to Kelsey MacDonald as Ulla who steals every scene she's in with her sweet singing voice and comic antics. She is just sensational.


Note must be made of Jonathan Berg-Einhorn for his set designs and to Rachel Sypniewwski for he magnificent show-stopping costumes throughout.

The Producers is accompanied by a live orchestra conducted by Eugene Dizon.

For tickets, visit musictheaterworks.comor by calling the Music Theater Works box office at the North Shore Center, 847.673.6300. The North Shore Center for the Performing Arts is located at 9501 Skokie Blvd, Skokie. Music Theatre Works next production is Brigadoon October 19 – November 12.