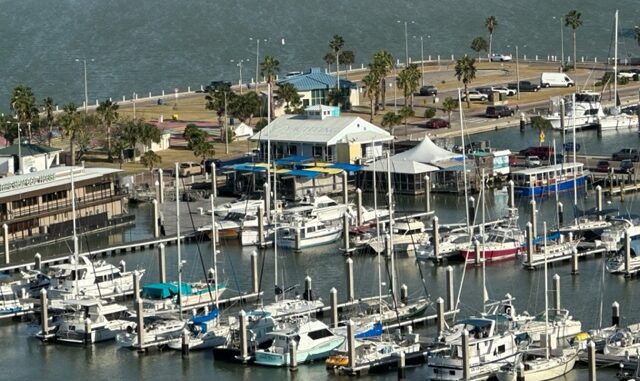 Jutting out from the Gulf of Mexico lies Corpus Christi, the Gulf Coast Capital of Texas. With 100 miles of sandy shoreline, Corpus Christi is a vibrant coastal city fusing culture, adventure, and outdoor recreation that makes for a perfect vacation escape. Art, amazing festivals, and plenty of foodie-innovations, Corpus Christi is the kind of destination that welcomes you to stay for a while. With a Tex-Mex influence on its palate and the ultimate in fresh seafood curated by local purveyors, this is the beachtown where Texas comes to chill.
What do Farah Fawcett, Selena, and Whataburger have in common? They're all from Corpus Christi!

Drive along the exquisite Ocean Drive Boulevard lined with city parks and beaches. There are nine beaches between the city and Padre Island National Seashore. You'll ooh and awe over the gorgeous homes across the street.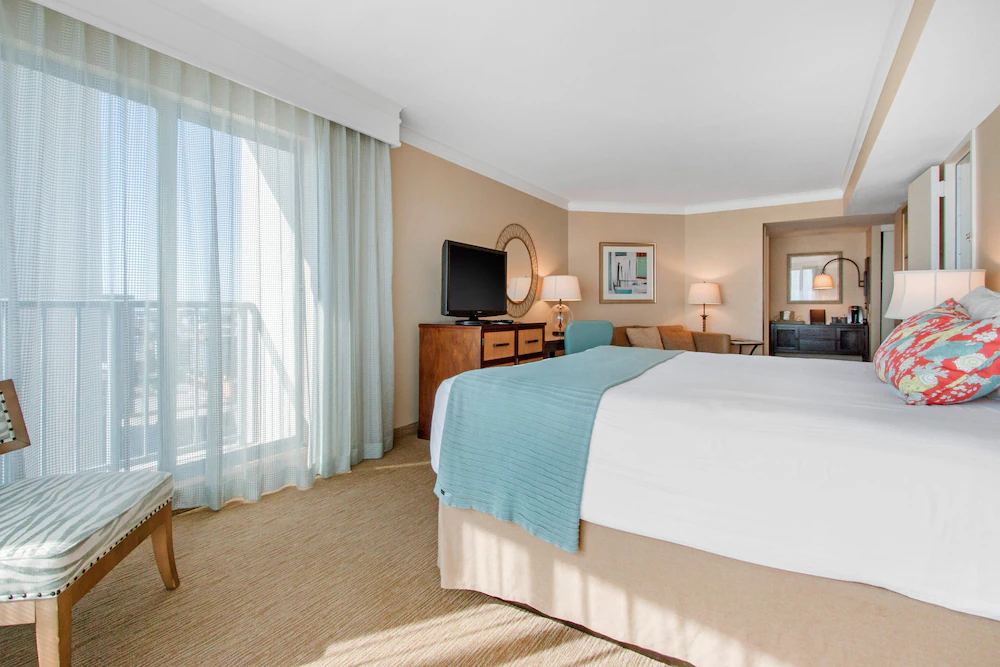 The Omni Corpus Christi – Luxury on the Bay

Staying at an Omni Hotel is always a treat and the 475-room Corpus Christi location lived up to the hype. My room had the ideal location in the heart of the downtown area with exquisite views of the bay and the boats. I started my day with the buffet breakfast in the Glass Pavilion with made-to-order omelets, fresh breads, and yogurts. The dinner-with-a-view multi-level rooftop restaurant offers Republic of Texas Bar & Grill, serving outstanding Texas steaks, chops and seafood, the only AAA Four Diamond restaurant in south Texas. The hotel also offers an indoor and outdoor pool, 24-hour workout facility, full service spa and other amenities. Their first-class service and attention to detail made for the best stay.


Play at Padre Island National Seashore
Padre Island National Seashore is located on Padre Island, along Texas's southern coast of the Gulf of Mexico and the longest undeveloped barrier island in the world. With 70 miles of unspoiled beaches and dunes, outdoor recreation is what it's all about.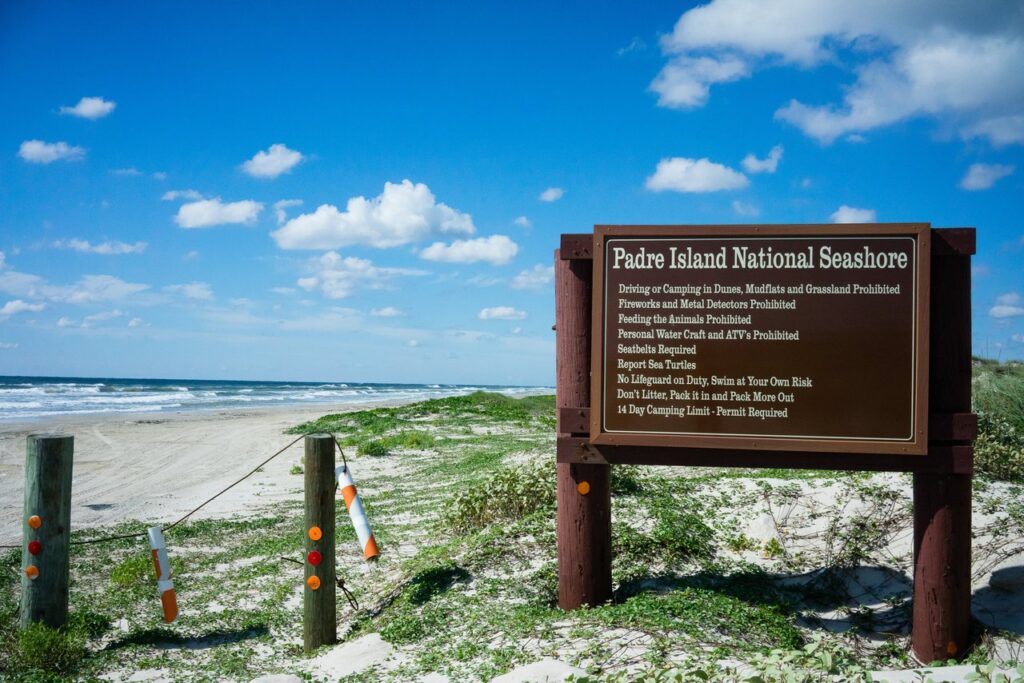 But, don't be confused by the name. This is not the South Padre Island you've seen in pictures, teeming with college students. That South Padre Island is more than three hours away along the Texas Gulf Coast.

First Stop – Island Joe's Coffee and Gallery
Come meet the locals and check out the art. Grab a Fro-Joe expresso made with caramel, mocha, and coconut syrup, so refreshing. Fuel up with some baked in house kolaches or biscuits to go. Check out their Facebook page for info on game nights, movie nights and other events.

Surfs Up!
Want to learn how to surf? Catch a wave with Texas Surf Camps, which provides instructions for both adults and kids. Their expert instructors will guide you through the art of riding the waves. There's nothing quite like feeling the salty breeze on your face as you harness the ocean's power. We took a lesson from owner Morgan Faulkner and his wife, Brittany who shared their passion for surfing with us. Summer camps and classes are available as well as private lessons. You'll love it and and will feel confident in the water.
Ride with Horses on the Beach
Great for all ages and riding abilities, Horses on the Beach offers a leisurely ride along the shore and through the dunes. Whether you're a beginner or an experienced rider, Horses On The Beach is sure to be your favorite adventure. Choose from two rides, a sunset ride or one-hour ride. Ages 8 and up.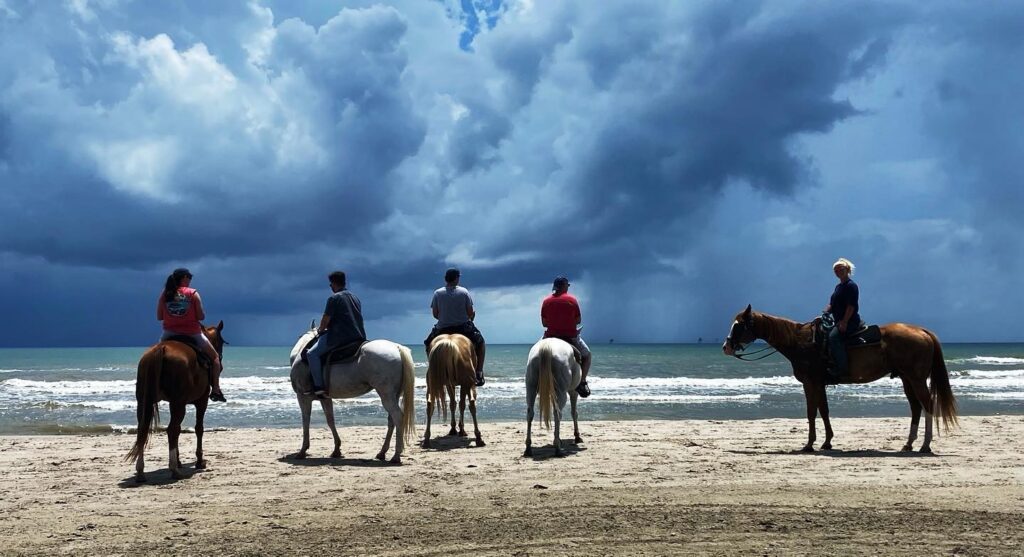 Dine at Doc's Seafood & Steaks
A mainstay on Padre Island for almost 20 years, Doc's Seafood and Steaks is the place for fresh seafood and great steaks with a great location under the J.F.K. bridge. Their extensive menu features seasonal fish from the Gulf, fresh Gulf shrimp, certified Angus steaks, salads, burgers, and more. You'll find the views as exquisite as the food.
Dine as you hear the seagulls flying overhead and watch the fishing boats come to shore with their catch. If you're a fisherman yourself, bring your catch to Doc's and they'll cook it for you.
Be sure to check out Scoopy's Ice Cream for dessert like a Brownie Ice Cream Cupcake.

Kayaks that Light up the Night
If you've ever kayaked during the day, prepare for something almost otherworldly with Glow Row "Glow in the Dark" Kayaking. You'll glide along the tranquil waters of Corpus Christi Bay under a magical night sky leaving a trail of color. Equipped with special glow-in-the-dark kayaks with LED lights that highlight the marine life, you'll paddle by moonlight. My favorite part was watching all of the fish swim underneath my boat. Choose from the 8 and 10 pm timeslots and ride for 90 minutes.

Fun in Corpus Christi
Batter Up at Whataburger Field
Cheer on the Corpus Christi Hooks, a Double-A affiliate of the Houston Astros. It's got all the excitement of the major leagues on a much smaller scale. The Hooks season runs from April – September. When the Hooks aren't playing, the "Ballpark by the Bay" is also used for special events.

Art on the Beach

Immerse yourself in a world of artistic masterpieces and cultural heritage at the Art Museum of South Texas. We saw an amazing collection of surrealistic art from de la Torre Brothers, on display at the museum through September. The permanent exhibits feature the art of the Americas from the Texas area with paintings, photographs, glass and crafts.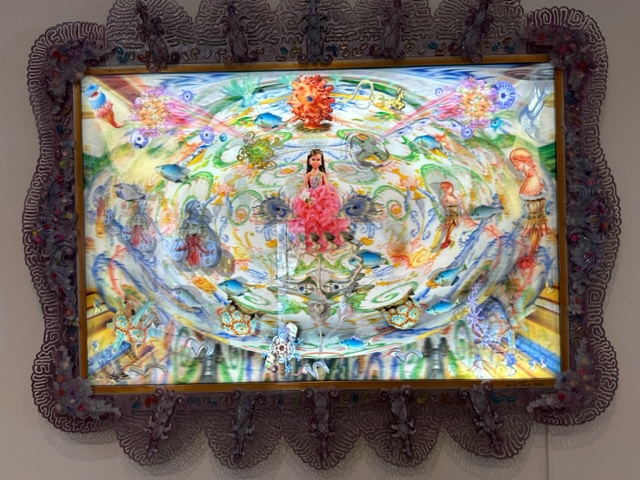 Don't miss brunch or lunch at Elizabeth's at the Museum, which is like dining in an art gallery. The Mediterranean-inspired cuisine features soups, salads, grain bowls and flatbreads. The baklava was to die for. Their signature dish was Devils on Horseback, bacon-wrapped dates with goat cheese filling that was sumptuous.

For more creativity, head to KSpace Contemporary for modern works by local and international artists. . Admire the exhibits and find out how you can participate in their cultural events.

Mural & Arts Pedal Pub Tour with Local Brews

You've probably seen these mobile cruisers in your city. Hop aboard the Blue Shore Pedal Lounge and pedal your way through the Corpus Christi Mural and Art Trail as you sing along to your favorite music at the top of your lungs. Stop at various craft beer locales and taste the local brews. It's fun and good exercise.

Take a selfie with Corpus Christi's Famous Daughters
This is the town of Farrah Fawcett, Eva Longoria and Selena, the Queen of Tejano music. There's a prominent mural of Farrah by the beach and a newly installed mural of Selena in the neighborhood where she grew up.

Where to Eat

Dokyo Dauntaun

This Neo-Tokyo-inspired paradise is truly unique in décor and cuisine. A melting pot of diverse culture and culinary delights, DOKYO will delight you with its menu offerings and immersive experiences. Try their sushi and tempura.


Central Kitchen

Located a half mile from The Omni Hotel, Central Kitchen is the perfect option for breakfast brought to you by Water Street Restaurants. I started with the Billy Elvis Bread made with Nutella. Everything there was made in-house from freshly baked breads, sandwiches, breakfast toasts, and sauces made from scratch.


Visit Corpus Christi for the annual Dia de los Muertos Festival
This year, the Dia de los Muertos Festival takes place on Saturday, October 28 when the downtown area will once again be filled with spirits, live music, food trucks, face paintings and lots more. KSpace is also one of the hosts of the festival.
Stop by the Visitor Information Center or check out Corpus Christi for your next great Texas beach getaway.