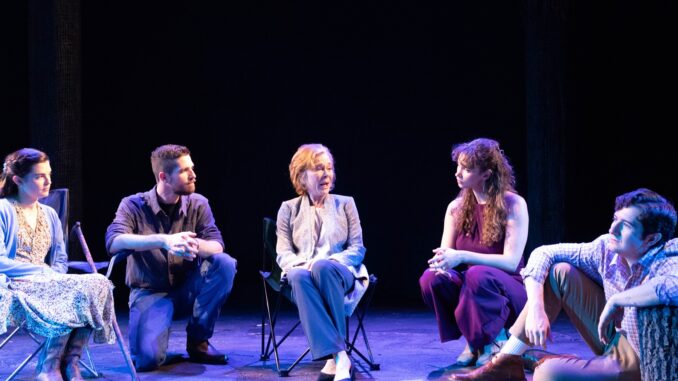 Critically acclaimed and a Pulitzer prize finalist, HEROES OF THE FOURTH TURNING arrives in Los Angeles at the Matrix Theatre courtesy of the Rogue Machine. To quote playwright Will Arbery – raised in a conservative Texas Catholic home – "…I was mostly just reflecting back what I was hearing" at the family dinner table. He went on to define a further goal: "Writing with more honesty and specificity and courage about where it was that I came from…owning that and not being ashamed of it." Following his success with this play, Arbery relocated to Los Angeles and continues to write, with two new plays produced in New York last year. He is currently working on an opera libretto adapted from Dostoevsky's "Demons" for the Met, among other ongoing projects.
Evangeline Edwards and Roxanne Hart – Photo by John Perrin Flynn
The time is August 17, 2017 (one week after the Charlottesville riot and subsequent solar eclipse), and the place is Western Wyoming. A group of conservative young adults who graduated from classically Catholic Transfiguration College a few years ago get together to celebrate the appointment of Gina (Roxane Hart), the mother of one of them, as Transfiguration College president. As Justin (Stephen Tyler Howell), Emily (Emily James), Teresa (Evangeline Edwards), and Kevin (Samuel Garnett) reveal how they have changed since leaving college, they espouse numerous conservative positions, including their stand on abortion (anti), LGBTQ+ (anti), and racism (anti). While they debate differences between the secular left and the religious right, which they see as seminal to the soul of Western civilization, they also reveal a great deal about themselves and their own beliefs, backgrounds, and goals – and slowly begin to bare their very souls.
Emily James, Samuel Garnett, and Stephen Tyler Howell – Photo by John Perrin Flynn
Director Guillermo Cienfuegos does an excellent job of helming the complex and nuanced production. He is ably assisted by the talented cast, who give their roles their all as they delve into the internal lives of their characters. Arbery reported that "I just wanted to write truthfully. It became the only thing I was interested in, even though it was scary." Very little happens in the play, with the major focus on what is bouncing around in each principal's head.
Emily James, Samuel Garnett, and Stephen Tyler Howell – Photo by John Perrin Flynn
Stephanie Kerley Schwartz's scenic design lends itself to the play's explorations. It is at the same time dark and eminently mysterious, a slice of earth surrounded by a forest with just one clapboard hut nestling in the copse. Christine Cover Ferro's costumes, Dan Weingarten's lighting, and Christopher Moscatiello's sound enhance the enigmatic secrets being shared.
Evangeline Edwards and Samuel Garnett – Photo by John Perrin Flynn
HEROES OF THE FOURTH TURNING will certainly appeal to young adults who are finding their way in a confusing society marked by many disparate beliefs and opinions. It should also appeal to both ends of the political spectrum, who may either nod in agreement or compose opposing opinions in their heads. Above all, this is a thought-provoking and intense play which will leave many questions unanswered but up for debate.
Evangeline Edwards and Samuel Garnett – Photo by John Perrin Flynn
HEROIES OF THE FOURTH TURNING runs through October 2, 2023, with performances at 8 p.m. on Fridays, Saturdays, and Mondays and at 3 p.m. on Sundays. The Rogue Machine performs at the Matrix Theatre, 7657 Melrose Avenue, Los Angeles, CA 90046. Tickets are $45 (seniors $35, students $25, Pay-What-You-Want Fridays on 9/1, 9/8, 9/15, and 9/22/23 – minimum $10). For information and reservations, call 855-585-5185 or go online.