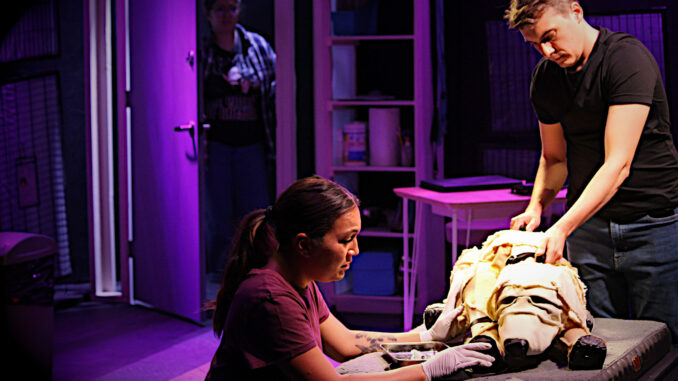 When the pandemic began in the spring of 2020 – bringing with it the need for long-term social seclusion enforced by both common sense and government regulations – many people thought to make the isolation and loneliness less depressing by sharing their home with a loving pet – be it cat, dog, hamster, rabbit, or even more exotic creatures. Then the pandemic ended – and those cute, cuddly buddies no longer served their owner's purpose. Suddenly, many of the pet parents started to turn over their furry friends to the various shelters around their homes. Just as suddenly, many shelters became overcrowded. What to do? Euthanasia seemed the logical answer, especially in government-run shelters with very limited budgets.
C.J. Craig, Nadia Marina, and Chloe Madriaga – Photo by Julie Lanctot
KILL SHELTER delves into the question of what to do when funds are scarce and needs are great. Colleen (Nadia Marina) manages a government-funded animal shelter, a shelter which cannot turn any animal away. But what to do when many of the animals living in the shelter are unadoptable, perhaps because of their senior status or illness or injury. And what about those animals who proved to be aggressive, unpredictable, and possibly dangerous? Colleen works at a shelter because of her compassion and love for animals, and yet she is forced to kill them – often without a good reason except the overcrowded state of the shelter.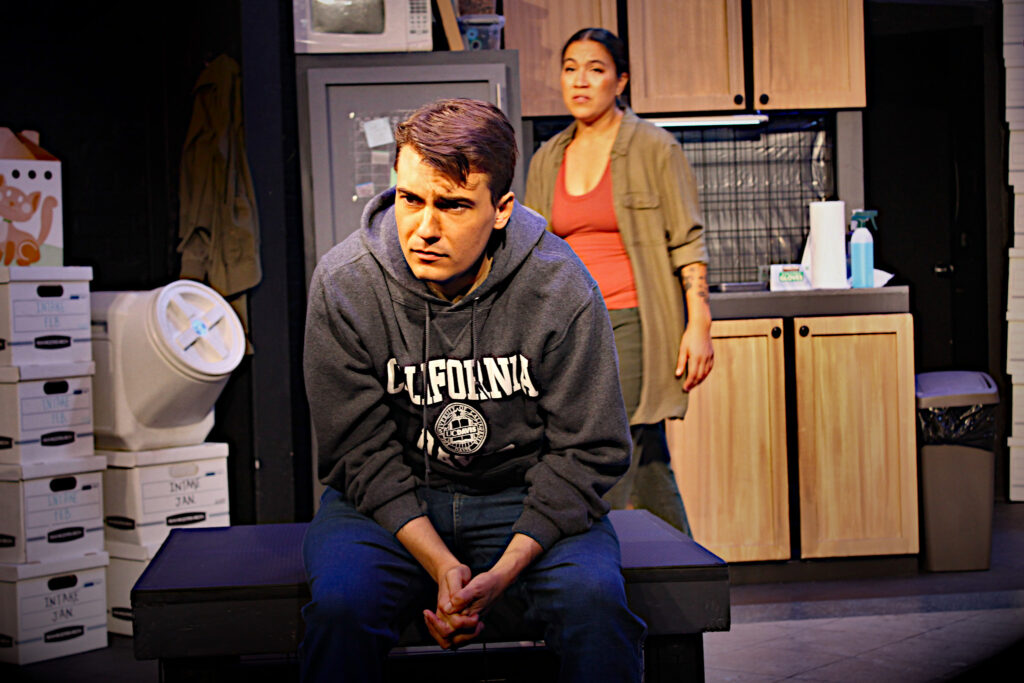 Alex Hogy and Nadia Marina – Photo by Julie Lanctot
Colleen is also a single mother who is raising Ellie (Chloe Madriaga), a teenager who disapproves of her mother's job. Then love and lust combine when Ellie becomes pregnant by Nolan (CJ Craig), a pastor's son who just happens to be her ultra-conservative boyfriend. Around the same time, Colleen finds herself becoming involved with Brady (Alex Hogy), a much younger subordinate. When complications pile up to the crisis point, what will happen next?
Chloe Madriaga and C.J. Craig – Photo by Julie Lanctot
Competent director Shaina Rosenthal does a good job of showing the nexus between compassion, pragmatism, and everyone's search for love. The talented cast sometimes become lost in the tale of conflict, stress, and no good answers. Playwright Ashley Rose Wellman carefully builds suspense as the environment threatens to overwhelm Colleen and her daughter. Colin Lawrence's scenic design brings the chaos of overcrowding to the audience, while Hayden Kirschbaum's lighting and Matt Richter's sound add to the feeling of claustrophobia. Of special note are Emory Royston's puppets: they do a matchless job of bringing poignant moments to the tale as the doomed animals share the sad stories leading to their euthanasia. This reviewer found that these moments were the best part of the play and wished that the author had focused on the multifaceted relationship between humans and animals rather than on the banal tale of poor love choices. Pet lovers will definitely love KILL SHELTER but may shudder at some of the realities faced today. Advocates for the fair and ethical treatment of animals will also find the play moving.
Alex Hogy and Nadia Marina – Photo by Julie Lanctot
KILL SHELTER runs through October 1, 2023, with performances at 8 p.m. on Thursdays through Saturdays and at 6 p.m. on Sundays. The Theatre of NOTE is located at 1517 N. Cahuenga Blvd., Hollywood, CA 90028. Tickets are $30. For information and reservations, go online.