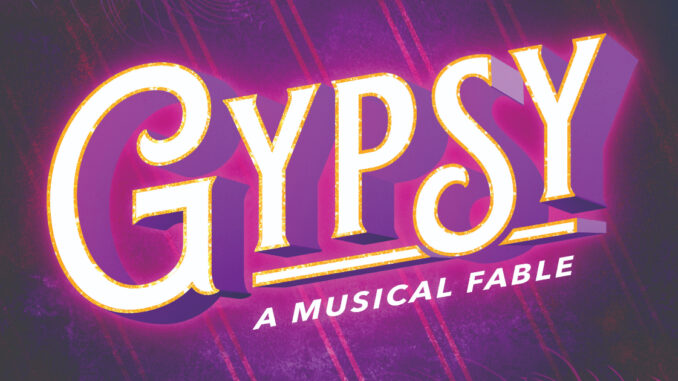 The Marriott Lincolnshire is presenting Gypsy: A Musical Fable which it calls "the mother of all musicals." Critic Ben Brantley of the New York Times considered it to be the greatest of all American Musicals. Critic Frank Rich compared it to King Lear. It is loosely based on the memoirs of the burlesque star, striptease artiste, actress, talk-show host, and author Gypsy Rose Lee, the daughter of three-time divorcee, Rose Hovick, who later changed her name to Havoc. She is the Mother of all Stage Mothers. Lee did not publish her memoir until 1957 after her mother's death afraid of a lawsuit from her own mother.
Producer David Merrick read a chapter of Gypsy Rose Lee's memoir in Harper's Magazine. He and co-producer Leland Hayward approached Arthur Laurent to write the book. Laurent relates that he declined until he realized the compelling story was one of a parent living her dreams through her two children, Baby June, and Louise Rose. Irving Berlin and Cole Porter also declined to write the music. Stephen Sondheim, eight-time Tony and Grammy Award Winner, fresh off of 1957 West Side Story fame wrote the lyrics. The actress Ethel Merman part of the production team and who portrayed the first Brassy, Monster Mother Rose on stage campaigned for Julie Styne to write the music.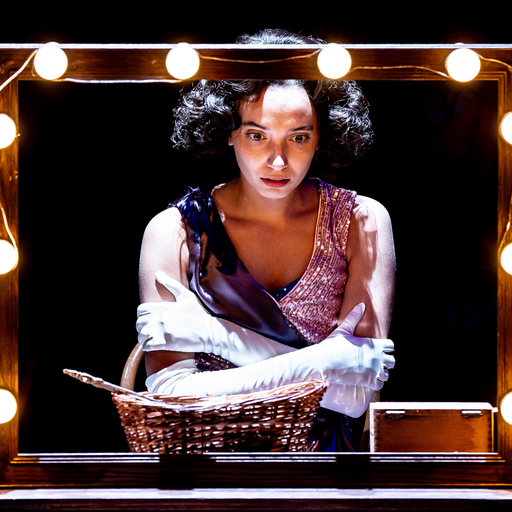 This classic behind-the-show business scene delights audience members with an iconic, familiar score that you want to sing out loud including: "Everything's Coming Up Roses," "Let Me Entertain You," "Some People," and Together Wherever We Go." 2010 Outstanding Director and Northwestern Professor Amanda Dehnert says: "Gypsy is a tale of perseverance. The story revolves around two exceptional women- a mother and daughter find themselves in the shadow of each other's aspirations. It is sometimes funny, sometimes sad, and above all else it has a huge heart." Dehnert's direction makes sure you feel that.
The choreography by Stephanie Klemons and the musical direction by Jeff Award Winner Ryan T. Nelson is outstanding. My favorite dance scene is the Broadway show-stopping number performed by Baby June Elin Joy Seiler and her newsboy ensemble Elliott Angsurat, Ben Broughton, and Lucian Gutfraynd. The audience was obviously thrilled with JKobe Wallace's athleticism and prowess during his performance as Tulsa in "All I Need Is The Girl." I do however admit that seeing the Baby June and the Newsboy same vaudeville act over and over again became a tiresome tortuous endurance I was glad to see over.
The transition to the daughters growing up was beautifully handled through expert lighting and staging. Jesse Klug's lighting design is always innovative and amazing. Lauren Maria Medina a skillful actress becomes the young woman Louise Rose who finally frees herself from her mother's control as the stripper Gypsy Rose Lee. She really shimmers as Gypsy Rose Lee. Talented Tori Heinlein is the grown-up June Baby who runs off with Tulsa and later becomes a Hollywood actress June Havoc. Theresa Ham's costume design is rich and period-sensitive. Her Toreadorable costumes were brilliantly colored and fanciful, while the stripper costumes were very creative and too much fun. The orchestra under Brad Haak had perfect timing and played Sondheim/Styne's music exquisitely.
Lucia Spina was born and bred in Chicago and is an accomplished Broadway star. As Rose, she has powerful vocals. She commands the audience and stage playing the brash complicated conflicted mother who never achieved her dreams. She schemes and struggles trekking across the country to have her daughters perform in two-bit vaudeville acts irrationally hoping to achieve stardom through them. Jeff Award Winner, Nathaniel Stampley plays Herbie the girls' manager guiding them through small-time circuits. He is hopelessly in love with Rose. Stampley has a beautiful voice and so much charm and patience with Rose who is only in love with show business. I understand Nathaniel Stampley is taking the stage in an intimate evening of solo songs and stories after the closing of Gypsy- A Musical Fable on October 15th. This is a separately ticketed event to enjoy Nathaniel Stampley's mellifluous repertoire. I hope you get to enjoy this special extravagance.
Milla Liss successfully plays the young Louise Rose who is painfully shy and awkward on-stage. She has a heart-breaking touching birthday scene unaware of her actual age because of her mother Rose's machinations. Rose continually changes both daughter's ages. Sometimes she makes them younger for performances or older to pass child labor laws. Louise Rose is uncertain of her age and isolated in a cheap motel while her mother entertains a prospective agent, Mr. Goldstone. Goldstone is portrayed by Sawyer Smith who has excellent comedic timing. I loved both of Smith's performances. Sawyer Smith also played the trumpet stripper, Mazeppa, in Act Two.
One of my personal highlights of the evening was meeting a rising star, Reggie, who last year appeared as Toto in The Wizard of Oz and this year is starring in Gypsy. He is a three-year-old Shitzu mix with wonderful manners. In the lobby, before the theater he greeted me with lovely ankle kisses and at the reception graciously allowed me to shower him with pets. His owner is an actress who has played Lincolnshire Theater. I do hope you get the opportunity to see him on stage before he becomes too famous.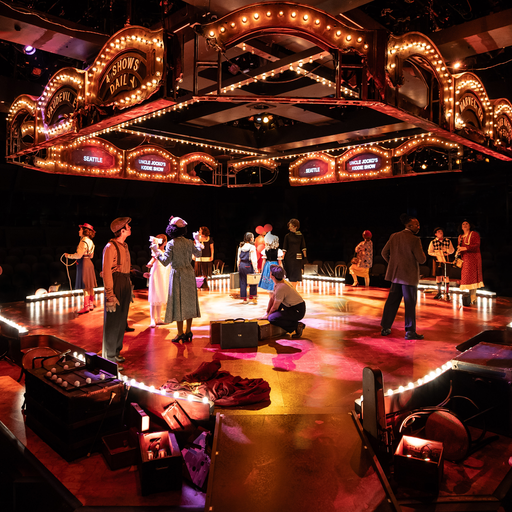 GYPSY is scheduled to run on Wednesdays at 1:00 p.m. and 7:30 p.m., Thursdays at 7:30 p.m., Fridays at 8:00 p.m., Saturdays at 4:00 p.m. and 8:00 p.m., and Sundays at 1:00 p.m. and 5:00 p.m. There are select Thursday 1:00 p.m. shows. Ticket prices start at $55 (excluding tax and handling fees). Student, senior, and military discounts are available. To make a restaurant reservation, please call 847.634.0100. Reservations are strongly recommended. Free parking is available at all performances. To reserve tickets, please call the Marriott Theatre Box Office at 847.634.0200. Visit www.MarriottTheatre.com for more information.
Photos: Courtesy of Liz Lauren and Heron Agency