Inspired by Leopold von Sacher-Masoch's 1870 novel "Venus in Furs"- which added the term masochism to the language – David Ives penned VENUS IN FUR, an erotic drama with a comic twist. VENUS IN FUR premiered off Broadway in 2010 and on Broadway in 2011 (winning a Tony award for the lead actress). In turn, Ives' play was adapted into the 2013 French film "La Venus a la Fourrure," directed by Roman Polansky. This "play-within-a-play" is currently revisited for today's audiences at the McCadden Place Theatre in Los Angeles.
Ekaterina Melnik – Photo courtesy of McCadden Place Theatre
Time and place: modern New York City. Playwright/director Thomas Novachek (Jay Duncan) is having a serious problem casting his new adaptation of the German sadomasochistic novel. Then Vanda Jordan (Ekaterina Melnik), a crass and pushy actress, shows up in his audition room late in the evening. Even though Thomas longs to return home after a long day – and considers Vanda a misfit for the role – Vanda finally cons Thomas into granting her an audition – an audition which stuns Thomas and paves the way for their burgeoning relationship as both take on the principals' roles. Soon, the boundary between fantasy and make-believe blurs as Thomas takes on the role of the masochistic male lead and Vanda becomes the erotic and sadistic female lead. Submission, domination, and power are key motivations in this lusty tale. But who is dominant and who is submissive? And where does the power really rest? You'll have to see the play to answer this slippery question.
Ekaterina Melnik and Jay Duncan – Photo courtesy of McCadden Place Theatre
Director Mark Blanchard helms the tale with a sure hand as he digs into the onion-like layers of Thomas' mind, perhaps because he played the lead role for the first half of the show's run. Ekaterina Melnik (also known professionally as Katyusha) is a sexy, manipulative Vanda who pushes the envelope in so many unexpected directions and switches from the crass to the erotic in the blink of an eye. Jay Duncan does a bang-up job of portraying the conflicted Thomas, a role he fashioned after he took on the last weeks of the production. Author Ives has also cleverly managed to sandwich in lots of chuckles as the story progresses.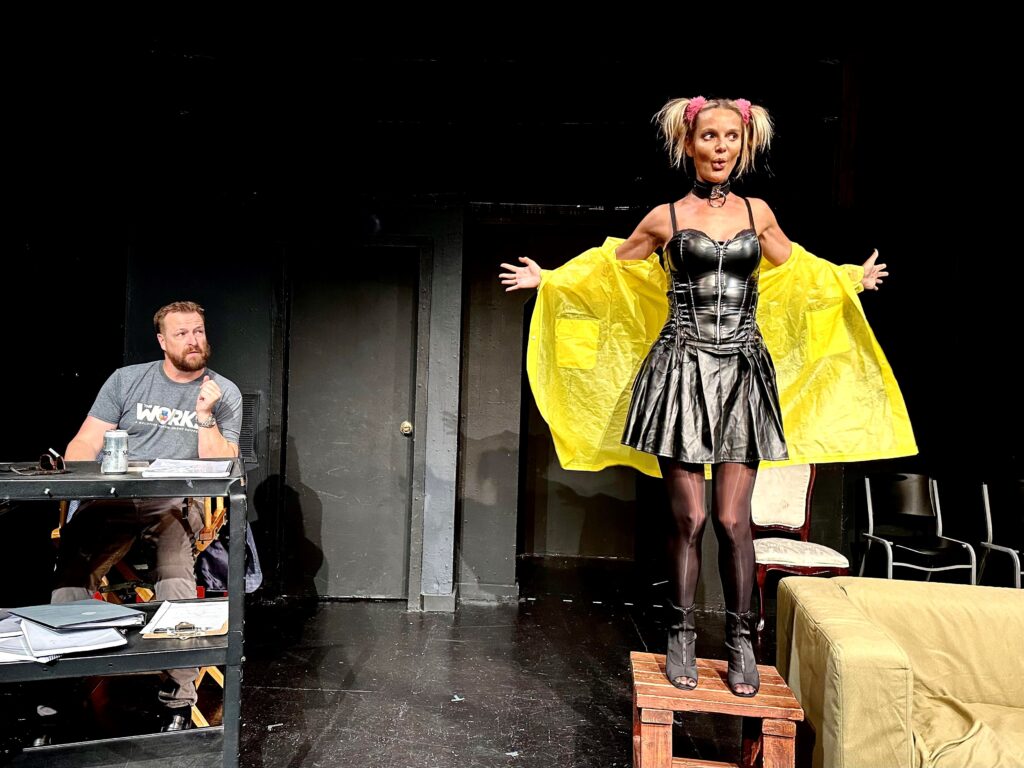 Jay Duncan and Ekaterina Melnik – Photo courtesy of McCadden Place Theatre
The production team lends a competent hand to this production. Costumes are eye-catching and help form the characters. Kudos for lighting and sound (initially designed by Derek Jones and Jeanne Valleroy – and later updated by Nick Landi) as they simulate the powerful thunderstorm going on outside the building – emulating the interior thunderstorm as the two principals engage. VENUS IN FUR is an intriguing production which mines issues of eroticism tinged with comedy. While not suitable for children, the story should appeal to those interested in human relationships and their many twists and turns.
VENUS IN FUR runs through 9/3/23, with performances at 8 p.m. on Fridays and Saturdays and at 3 p.m. on Sundays. The McCadden Place Theatre is located at 1157 N. McCadden Place, Los Angeles, CA 90038. Tickets are $30. For information and reservations, go online.