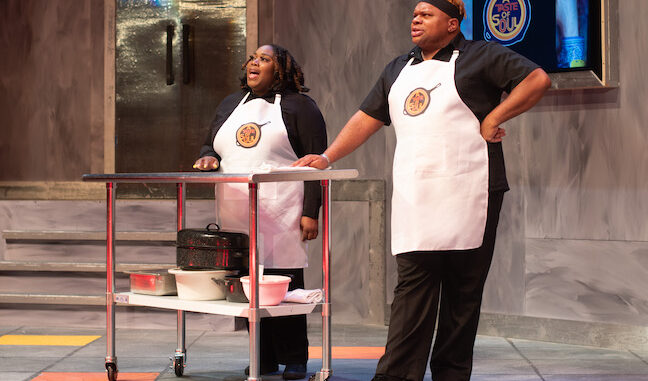 Black Ensemble Theater, 4450 N. Clark St., Chicago, continues its 2023 Season of Excellence:
Rejuvenation, with A Taste of Soul, which opened August 26th and will run through October 15, 2023.
Written and directed by Producing Managing Director Daryl D. Brooks, A Taste of Soul is
an homage to a beloved musical genre and a tribute to great down-home celebrations with that
music playing and home cooking heating up.
Featuring a full cast of singers and dancers, presented as chefs recounting family gatherings of
the past, the cast expertly shares the stage with projected recipes, billboard snaps and PR
photos of great singles artists, duets, trios and groups. The music was hot, without being
imitative, the dancing was fun and adaptive of the popular presentation and hoofing of the
time in question. The audience at the Press Opening, September 3 rd , was sold-out, rocking and
finger-popping in their seats, and most important to any entertainment show, the stars on the
stage were obviously having a great time.
Some 2 dozen hits were explored, from Aretha Franklin's Dr. Feelgood, to The Temptations'
Ball of Confusion. Everybody's favorite song was covered, including Al Greens Lets Stay
Together. Everybody's favorite was represented, including Barry White's Can't Get Enough of
Your Love, Babe, through Peaches and Herb's Reunited and this reviewer's personal favorite,
the Delfonic's LaLa Means I Love you. Before and between songs, cast members introduced
each other and the songs' originators, telling important and interesting anecdotes about each
hit and its creator. In this way, full credit was bestowed upon the past while allowing the great
Black Ensemble artists to deliver each piece in their own inimitable way.
Soul Music is a distinct, wildly popular style or musical genre that originated in the Black
community through the late 1950's and early 1960's. With its roots in gospel and rhythm and
blues, astride the burgeoning rock and roll era, it is the perfect music for listening, romancing
and dancing. Never abrasive, tangentially political, it was- and is- fast-moving and fun.
Nonetheless, U.S. labels such as Motown and Atlantic were influential during the Civil Rights
Movement in the U.S., especially in the 1960's and early 1970"s. Soul proliferated around the
world and has had a resurgence with neo-soul. It is instantly recognizable with it's dreamy, sexy
vibe.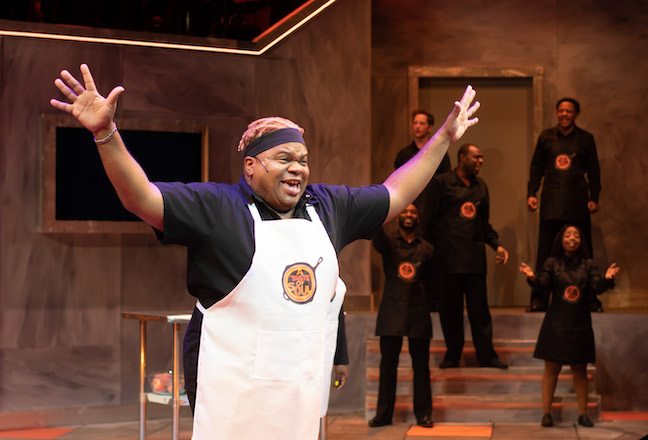 Black Ensemble Theater, founded in 1976 by the exceptionally talented
playwright/actress/producer Jackie Taylor, is mission-driven to eradicate racism and its
devastating effects upon society through the theater arts. As the only African-American theater
located in Chicago's racially and ethnically diverse Uptown community, it has become a hub of
that neighborhood, regularly producing original musicals that energize, educate, entertain and
uplift audiences at home and around the nation and the world.
Many thanks to the cast: Qiana McNary, Thee Ricky Harris, Caitlin Dobbins, Britt Edwards,
Makenzy Jenkins, LaRon Jones, Vincent Jordan, Brandon Lewis, Spencer Davis Milford, Percy
Nesbary 111, and Trequon Tate.
A big shout-out to the always-hot Black Ensemble band; perched above the main stage, they
occupy a central place in the show, their offerings arranged by Music Director Robert Reddick,
they include band leader Adam Sherod (conductor/keyboards), Myron Cherry (drums), Mike
Dangeroux (guitar), Walter Harrington (bass), Bill MacFarland (trombone), Dudley Owens
(saxophone), Isaac Armstead (trumpet), and Chip Roy (guitar).

Kudos to Reneisha Jenkins, Choreographer; Denise Karczewski, Lighting/Set Co-Projection
Design; Marquecia Jordan, Costume Designer; Keith Ryan, Wig Designer; DJ Douglass, Sound
Co-Projection Design; Harrison Orneals, Technical Director; and Jessica Moore, Equity Stage
Manager.