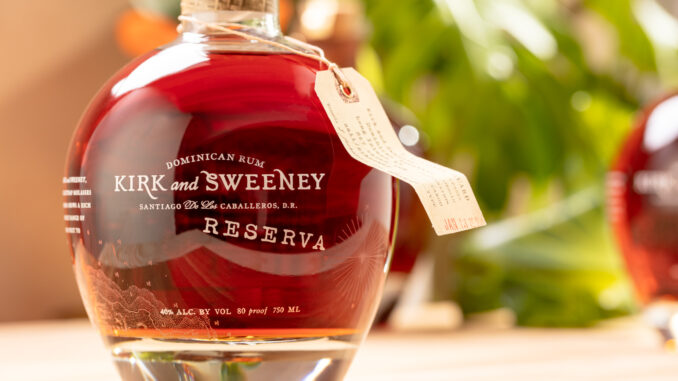 If you are looking for a cocktail to take you from the toasty days of summer leading up to those cool autumn breezes, we have the perfect drink to raise a glass and celebrate. National Rum Punch Day, which falls on September 20th, is that all-encompassing drink that is made for any season. On this day, cocktail enthusiasts and rum aficionados come together to pay homage to the beloved concoction that combines the rich history of rum with the refreshing flavors of fruit juices and spices. Splash Magazines is serving up some of our favorite cocktails for you to enjoy on National Rum Punch Day.
Handcrafted in the Dominican Republic, Kirk and Sweeney Rum adheres to the very strict regulations to be called "Dominican Rum." The process begins with high-quality sugarcane that is processed for fermentation and distillation. The rum is then aged in a variety of American and French oak barrels, with the distiller conducting various steps of dumping, blending, and re-barreling through the years.
Kirk and Sweeney is aptly named after an infamous wooden schooner, best known for smuggling rum from the Caribbean to the Northeast during the early years of Prohibition. Legend has it was seized off the coast of New York with a massive amount of rum aboard. The schooner was subsequently renamed "Chase" and pressed into duty as a Coast Guard trainer, serving until the late 1940s when it was retired and salvaged.
Plantation Punch – Kirk & Sweeney Dominican Rum
Ingredients:
2.5 oz. Kirk and Sweeney Dominican Rum Reserva
.5 oz. Crème de Bananas
1 oz. Lime juice
1 oz. Pineapple juice
2 oz. Orange of Mandarin juice
.5 oz. Grenadine syrup
1 dash Angostura Bitters
2 oz. Soda water
Methodology for a perfect Planation Punch cocktail every time:
Shake and strain all ingredients (except soda) into an ice-filled piña colada glass. Add soda. Garnish with fruit and a mint sprig. Sprinkle with nutmeg.
From the man who not only knows Rock n' Roll but also more than a little bit of run, we have a great recipe from the Red Rocker himself, Sammy Hagar. Sammy's Beach Bar Rum cocktail recipe is from Sammy Hagar's Greatest Cocktail Hits book, which is a must to create unique cocktails year-round.
ROCKER RUM PUNCH COCKTAIL
From page 52 of Sammy Hagar's Greatest Cocktail Hits
"This tropical, red-colored libation—perfect for sailors, swimmers, and salty sea dogs
alike—was featured on "The Rachael Ray Show" and can really pack a punch. Emeril
Lagasse, who's a close friend of mine and who appeared on the show alongside me,
watched as I was making one. After I added a little more rum than the recipe calls for,
he peered at the audience and quipped, "It's a good thing Rachael sent her driver." To
me, recipes are simply guidelines, and a lot of the time, I prefer to wing it. Mix this one
up and you're ready for a summer day at the beach, especially if you pair it with a cool
summer tune." – Sammy Hagar
Ingredients
 1 1⁄2 oz. Sammy's Beach Bar Platinum Rum
 1 1⁄2 oz. fresh pineapple juice
 1 oz. Sweet & Sour mix
 1⁄2 oz. triple sec (or any high-quality orange liqueur)
 1⁄4 oz. grenadine
 Garnish: fresh orange and pineapple wedges
Directions
In a cocktail shaker filled with ice, add Sammy's Beach Bar Rum, pineapple juice,
Sweet & Sour mix, triple sec, and grenadine. Shake well and strain into a hurricane or
tall glass filled with ice. Garnish with fresh orange and pineapple wedges.