Over the past fifteen or so years, Culver City has become a leading epicenter for the flourishing Los Angeles based contemporary and street art scenes.   With a plethora of hipster art gallery store fronts lining Culver, Washington and La Cienega Boulevards, Culver City has been dubbed the "Little Chelsea" of LA's Westside, due to its high concentration of trendy independent art galleries.  I am, by no means, an art expert, nor would ever have the audacity to call myself one. However, I do have a great affinity for the visual arts and try and keep myself abreast of the newest and most happening creative spaces, showcasing the works of some of my favorite local and global artists.  That being said, I was recently introduced to Castelli Art Space, established less than a year ago on Washington Blvd., just adjacent to Culver City, and it is by far one of the most promising and exciting visual and creative art compounds I have experienced in Los Angeles in quite some time.
Castelli Art Framing was founded nearly twenty years ago by long time art framing expert, and art curator, Fred Goldstein. When I arrived last week to tour the Castelli Art complex, in preparation for this piece, I was greeted by my friend Carlos Iglesias, founder of the Iglesias Art Advisory, and Fred Goldstein's partner in their newly developed joint venture- Castelli Art Space and Gallery.   I was familiar with Castelli Art Framing as it had garnered the reputation of being the foremost fine art and photography custom framing house in Los Angeles. Upon arrival, I was introduced to El Jefe Fred, and he graciously offered to take me on personal tour of his expansive, multi-building facility.  I learned the ins and outs of their shop capabilities and was highly impressed by their one stop shop approach to the encasing and handling of art.  From the initial consultation and design, to the shaping and processing of raw materials, to the matting, framing and finishing, to the boxing and shipping of the final product, Castelli is a well-oiled art framing machine.
The Wood Processing Space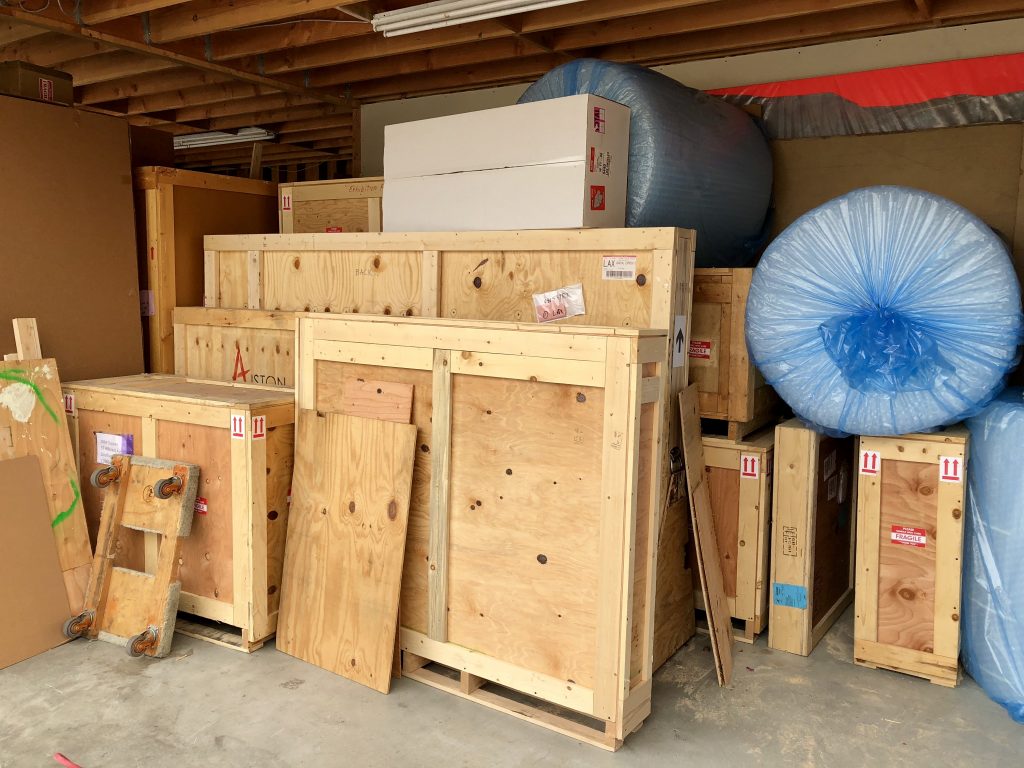 Crated Art Awaiting Shipment
When asked to describe his trade, Fred Goldstein stated: "Framing is a fine craft.  Frames need to be joined at the corners, they have to match, they have to be even, they have to be perfect…. And they must highlight, yet not overpower, the integrity of the artwork that they are framing. That's the trick to my trade."
The newest leg of the Castelli complex is the art and creative space/gallery- Castelli Art Space.  "Since we have this incredible space at our disposal, we wanted to forge an environment which nurtures and highlights artists.  Rotating fine art exhibitions is the primary function of the gallery. However, we also welcome musical performances, performance art, poetry readings, photo shoots, spoken word, etc.  Really, any form of creative art.  We want our space to become a hub for creativity, which is why we named it the Castelli Art Space." – Carlos Iglesias, Managing Director of Castelli Art Space.
On November 30th, Castelli Art Space presents their latest pop up group art show- Pink Pop Up Show.  Curated by William Wray and Carlos Iglesias, Pink Pop Up Show, as described by Wray in his Pink Manefesto, is "An unsophisticated concept: we are stripping the meat off the usual complex curatorial group show carcass of political complexity and playing with a straightforward theme that gives many disparate artists a chance to eat together at the same table. This grouping has been gathered with the intention to reflect on one happy theme color (in this case Pink) executed in the artist's own personal way."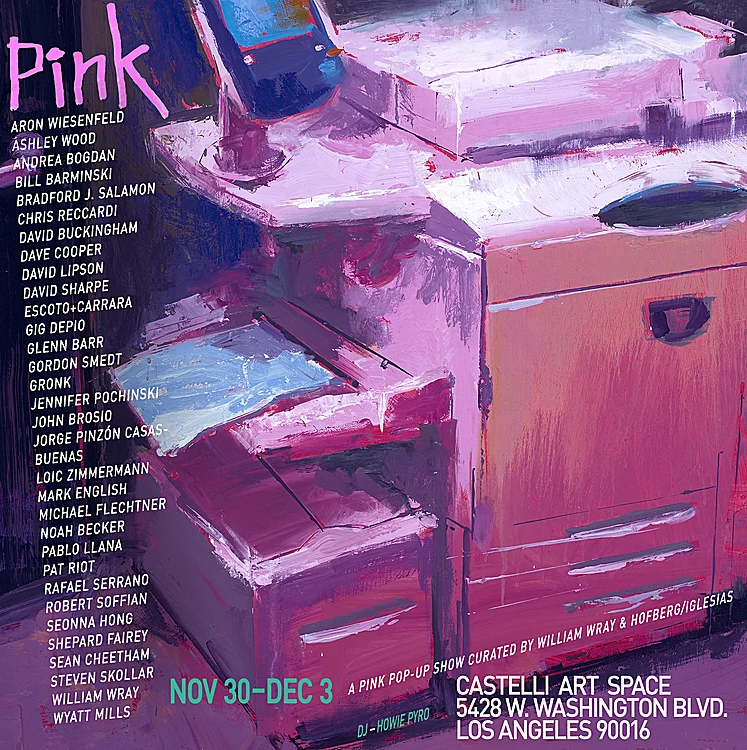 Featuring works by acclaimed artists: Andrea Bogdan, Aron Wisenfeld, Ashley Wood, Bill Barminski, Bradford J. Salamon, Chris Reccardi, David Buckingham, Dave Cooper, David Lipson, David Sharpe, Escoto+Carrara, Gig Depio, Glenn Barr, Gordon Smedt, Gronk, Jennifer Pochinski, John Brosio, Jorge Pinzón Casasbuenas, Loic Zimmerman, Mark English, Michael Flechtner, Noah Becker, Pablo Llana, Pat Riot, Rafael Serrano, Robert Soffian, Seonna Hong, Shepard Fairey, Sean Cheetham, Steven Skollar, William Wray and Wyatt Mills,
Preview: Jennifer (Jackie) Pochinski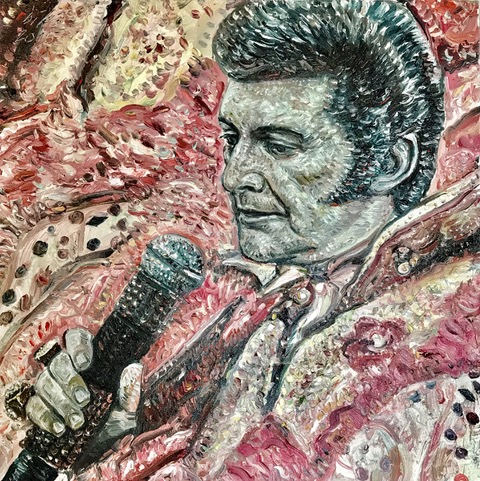 Preview: Gig Depio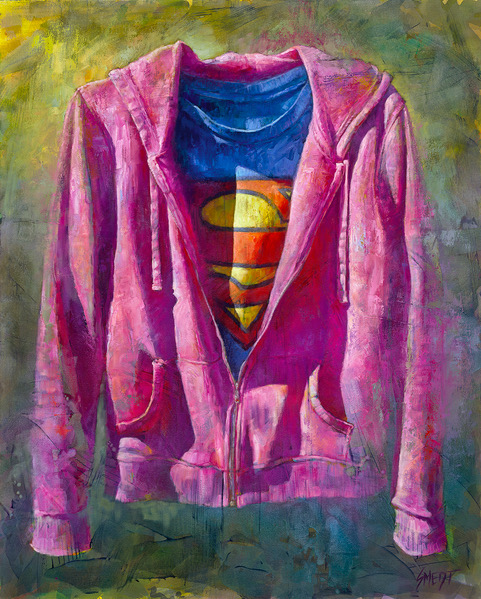 Preview: Gordon Smedt
Preview:  Glenn Barr
PINK will be on display at Castelli Art Space for a limited engagement, opening this Thursday, November 30th, 2017.
WHAT:  PINK Pop Up Show, Curated by William Wray & Carlos Iglesias
WHEN: November 30th through December 3rd.  Opening Reception:  November 30th from 6pm to 10pm
WHERE: Castelli Art Space- 5428 W. Washington Blvd.  Los Angeles, CA. 90016
MUSIC BY: DJ Howie Pyro
For more information on Castelli Framing or Art Space, please visit their websites at:
Or IG: @castelliartspace
Tracie May-Wagner is a Los Angeles based publicist and the Fashion Editor of Splash Magazines Worldwide.